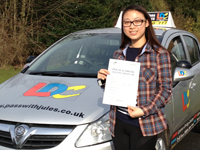 Yiyun Zhang 'Grace'
Jules is a brilliant instructor, he explained everything clearly and patiently to ensure my understanding. I really appreciate the way he talked me through each manoeuvre with his own demonstration. I have gained lots of skills and experiences during our lessons and I never thought I could drive as confidently as I do today. The LDC workbook is a fantastic tool to get thorough information before each practice and saves me a lot of time on the lesson hours. I highly recommend Jules and LDC system to any learner.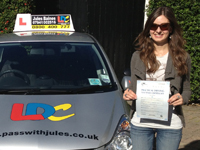 Sarah Shaw
Learning to drive with Jules Baines and the LDC system has been a fantastic experience and I passed my driving test with only one minor fault. The guidance the workbook and my instructor offered has enabled me to become a confident and safe driver. I feel I have gained the skills I need for a lifetime of safe driving. The workbook allowed me to understand what was going to happen in each lesson and this removed some of the worry and concern I had when first getting into the drivers seat! The lessons were highly structured and informative, giving me the opportunity to learn how to 'drive' and not just how to pass the test. I would highly recommend Jules Baines and the LDC system.
Ms. G Lee
It was with some trepidation that I began the UK licensing process (after driving overseas for more than thirty years). What luck it was to get Jules! He was extremely patient, professional, and articulate. He was also a very good listener and was willing to be flexible. For example, if I was apprehensive about a particular skill, he would adjust the lesson accordingly until I felt totally confident and comfortable. I appreciated his positive and optimistic attitude. I highly recommend him to anyone seeking driving lessons.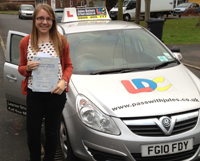 Victoria Granger
I would really recommend learning to drive with Jules, he is an excellent instructor and due to his teaching, I was able to pass first time, even without my own car. I really appreciated his confident and patient approach to driving and teaching, and felt comfortable in the car and able to ask any questions I had. The Driving Skills workbook and DVD were really helpful and allowed me to build up my skills and experience at my own pace, introducing new things each week as well as practicing everything I had been previously taught. I would like to thank Jules for all his time given to helping me pass and for his supportive and friendly teaching!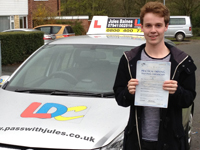 Tom McHale
Jules is a great instructor, he took the time to build up my skills and confidence effectively, he never lost his temper when I made any mistakes and was always willing to answer my (many) questions in detail. I truly feel that I benefitted from learning to drive with him, and that it was due to his teaching that I managed to pass first time.
I found the workbook to be very useful in the early stages of driving, giving me a detailed summary of what I would be covering in the next lesson. After this, it was useful in looking at which areas of my driving I needed to improve and how I could improve them. In particular, the lesson targets were extremely useful in judging how far I had progressed and what I needed to do next.
Sally Watson
Jules was recommended to me by a friend, and I'm so glad I learnt to drive with him. I came to Jules with no driving experience at all, but he always allowed me to learn at my own pace and never rushed me. He is very professional, but his friendly manner creates a calm atmosphere. He goes out of his way for you, and makes you feel like you're his only pupil. I passed first time with Jules and I found the Driving Skills Workbook and system very helpful because you always know what to expect, and you can learn from it even if you haven't got access to a car whilst learning.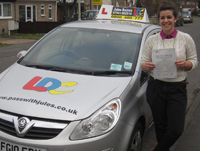 Emily Bower
Thank you so much for helping me to pass my test first time! As someone who naturally lacks confidence, I thought learning to drive would be really tough but Jules immediately set me at ease with his calm and encouraging approach. I found the LD system easy to learn by and the driving skills book and DVD really help to reinforce what is covered in each lesson, with quizzes and step by step explanations to help prepare you for both the theory and the practical test.
So, for anyone trying to decide which of the many driving schools to learn with, choose this one! Jules is brilliant and makes lessons enjoyable, stress-free and very productive. After passing my test I learned that I was the 10th consecutive person to pass with Jules to date, meaning he has had no failures so far this year - this is an amazing record and really shows how brilliant he is and I'm really grateful for his efforts.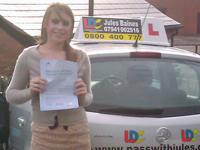 Katie
I chose to take the Semi-intensive pass course and I passed first time. I am so happy. Thank you so much for a good driving experience. It was easy and comfortable learning to drive with you as you were easy to get on with and patient. I recommend learning to drive with Jules. The Driving Skills Workbook I thought was brilliant and it went thoroughly into detail on everything and with going through this at each end of the lesson is brilliant. It was really useful. Thank you so much for your support and guidance. Thank you Jules for teaching me to drive. Thank you for getting me passed.
Yvonne
I just wanted to say a belated big thank you for being an excellent instructor. Your lessons were both friendly and relaxed, and very efficient and clear. The step by step instruction and your attention to detail gave me an excellent base to build on, and you helped me to never feel out of my depth while always encouraging me one step further. One year down the line I have not had any accidents or even a scrape or parking bump, which bears excellent witness to the quality of your teaching! I hope everything is going well for you and your family.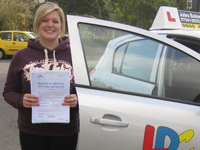 Lauren Reedy
I have really enjoyed my driving experience with Jules. I came to him with very little confidence due to a previous instructor. As soon as I began my lessons with Jules I regained confidence and knew by his professionalism that he was the right person to teach me to drive. I found the driving skills workbook and DVD extremely useful and definitely helped me in passing my theory and practical test. Overall I found Jules incredibly patient, understanding and an excellent driving instructor.
Thanks again Jules for teaching me to drive. I can't wait to get my new pink full driving licence through!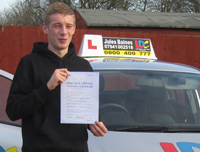 Darryl Felstead
Thanks Jules for teaching me and helping me pass my test.
I found Jules Baines to be an excellent driving instructor throughout my time learning to drive with him. He was very calm, patient and easy to talk to which made it a much more enjoyable experience whilst learning to drive. He explained things fully and took his time making sure that I understood what I needed to do and I didn't ever feel I was being thrown in at the deep end. He also demonstrates and shows you step by step what you need to be doing. If at any point I had any questions he was more than willing to answer them.
I would rate the LD system of tuition he uses highly as it teaches you so much just by reading it. It explains in depth about all the aspects of driving you'll be doing whilst learning to drive with Jules. It is also an excellent way to keep track of your progress and shows you what you need to improve on and what your strong points are. I found the DVD's very helpful as I learnt so much of the theory from it which in turn helped me pass my theory first time round. In the lessons leading up to my test he allowed me to practice the things that I felt I needed to improve on, and also doing some of the test routes and independent driving which comes up in the test. I found this extremely helpful.
I'd rate Jules as an excellent instructor who supports you every step of the way. I found the driving skills workbook and theory DVD's to be essential as they both helped me to learn the fundamentals of driving. I would definitely recommend Jules. I successfully passed my test first time with only one minor!
Thank you very much for teaching me to drive and good luck in the future.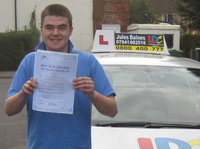 Ryan Breward
I would like to thank Jules for the help he gave me whilst learning to drive. He had plenty of patience with me, great support and worked around the times I could do the lessons. I purchased a theory DVD which was also really useful for getting me through my practical.
Once again many thanks for getting me passed!!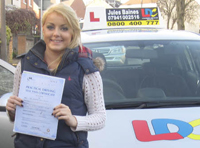 Rosey
Thank you so much for such a wonderful driving experience! I've never been so thrilled to have passed my test first time, You gave me a confidence and a skill in driving I thought I would never have. It felt so easy to learn to drive with you, as you were so patient and so easy to get along with! I would highly recommend learning to drive with Jules. I will most definitely be doing a pass plus course with Jules as I know how well you can achieve with the perfect driving instructor.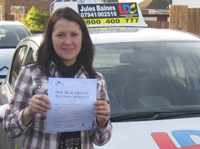 Natalija
When I first started driving with another instructor I didn't like it as I thought it was too hard for me to understand and left me feeling nervous and under-confident. So I changed to the LDC system and found this to be by far lots better. I felt at ease straight away after Jules coming to my home to explain best course for me, he explained everything very well. Jules was very patient as well as being generous with his time and I thoroughly enjoyed learning to drive and I loved the idea of the LDC course with the workbook and DVD's. I was very pleased to pass my test and I would definitely recommend Jules and the LDC system to anyone wishing to take driving lessons.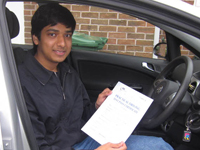 Raman Gupta
I passed my test the first time and would like to thank my instructor. He taught me in a very systematic and organized way. The LDC workbook and the DVD were very helpful. I enjoyed and looked forward to my lessons as I made continuous progress. Mr Baines is a very sincere, motivating and above all a very patient instructor. Thanks to him and LDC for my achievement. Thank you very much for your support and guidance throughout the lessons.